Click the '[+]' to see the full COVID-19 update for the listed dates.
July 19, 2022- Latest Update on Student Arrival
As of July 19, 2022, mandatory random arrival testing resumes for air travellers arriving in Vancouver, Calgary, Montreal and Toronto international airports. Testing will take place outside of airports.
All air travelers who are selected for testing (fully vaccinated and partially or unvaccinated) will perform the test outside of airports, either via an in-person appointment at select testing provider locations and pharmacies, or a virtual appointment for a self-swab test.
We require our students to be fully vaccinated to participate in the Comox Valley International Student Program.
If you are selected for the testing, you will receive an email notification within 15 minutes of completing your customs declaration. The email will contain information to help you arrange for your test with a testing provider in your region. Please make sure your phone is connected to the airport wifi as soon as you land to receive the email.
If your arrival test result is positive, you must go into isolation and follow the federal requirement to isolate for 10 days from the date of the test result. As a student in the Comox Valley International Student Program, you will be required to complete your isolation in your hosts home.
In additional, Canada still requires you to use ArriveCAN (free mobile app or website) to provide mandatory travel information within 72 hours before your arrival in Canada
For more information, please see the July 14 news release.
July 19, 2021
Please refer to this flowchart to prepare yourself to arrive in the Comox Valley for the September 2021 intake.
October 2020
The current school year is well underway, and everyone has adjusted to the 'new normal'. Students are engaged in their classes and enjoying time spent with their homestay families. We are so proud of our students for their hard work and positive attitudes!
May 27, 2020
Graduation Day 2020….a little different than we normally do it, but we couldn't be more proud of our students and excited to recognize their incredible achievements!
May 8, 2020
Some encouraging statistics from our Provincial Government:
April 29, 2020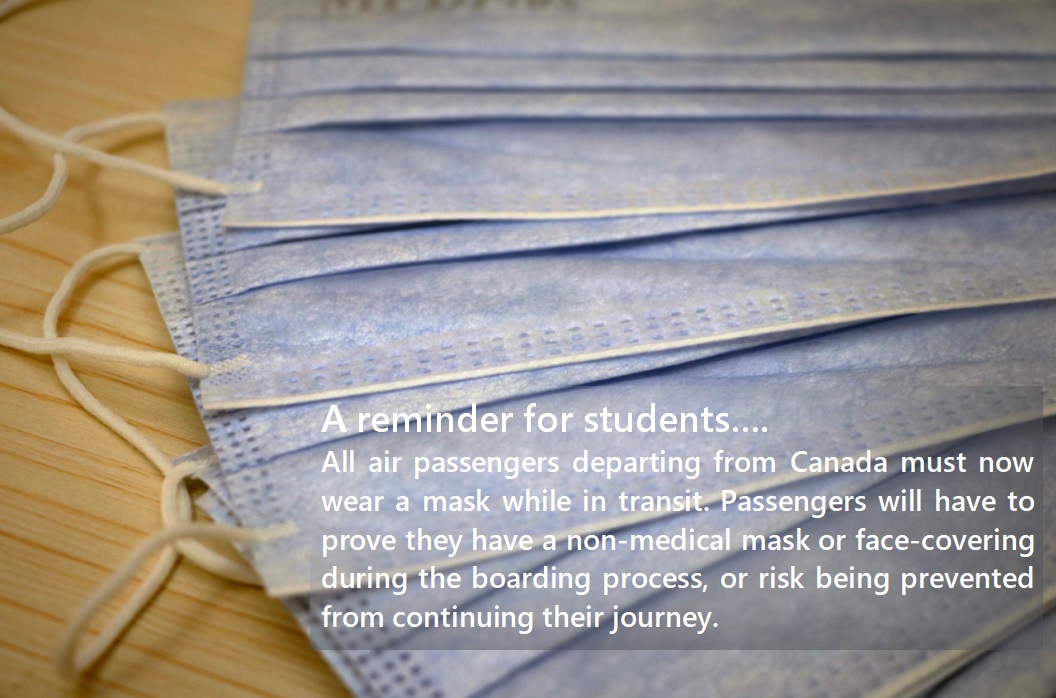 April 7, 2020
ROLES IN HOME LEARNING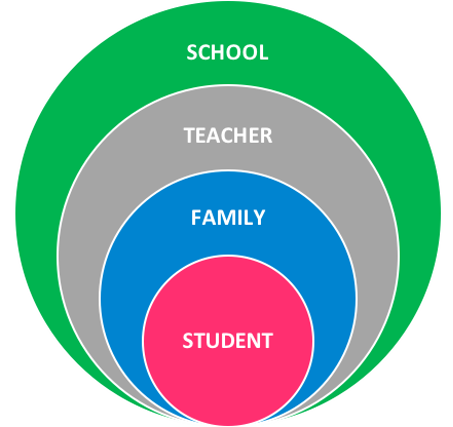 STUDENT'S ROLE – The active learner
Do the best you can
Work with your parents and teachers
Ask for help when you need it
FAMILY ROLE – The facilitators of learning
Create conditions at home (routines and spaces) that support learning and increase comfort
Maintain three-way communication (parents, teachers and students)
Monitor student emotional and physical well-being
Balance family and student needs
TEACHER'S ROLE – The learning guide
Maintain regular contact with students (twice a week) via phone, email, online meetings, etc.
Help students maintain connections with other students
Provide 1-2 hours of core learning opportunities each day
Provide ongoing support
Identify and monitor family and student needs: refer to school team for extra support
Assess progress with specific and constructive feedback
Provide a final report at the end of June
SCHOOL'S ROLE – The learning journey support system
Communication with school community
Support emotional and physical health for students, staff, and families
Support students, teachers and parents with their learning journey
Coordinate school routines and structures
March 27, 2020
Hello everyone,
I would like to take this opportunity to wish you and your families all the best during these challenging times. I know that these past two weeks have been unsettling and unusual; however, we hope you had some fun and had a relaxing break with your families over the spring vacation.
Next week, all our teachers will be working from home. They will be connecting with each of their students/families by telephone or email and beginning to plan for the delivery of learning opportunities in a different way now that face-to-face instruction is no longer possible. Our goal is to stay connected and keep the learning agenda moving forward for all our students. Details from each student's school will be coming to you via the teacher contacts and school emails. Schools will also be working with families to facilitate opportunities for students to retrieve any personal items they may need to support them in their learning. Again, details will be forthcoming from the schools. Please do not send your student to school next week. Students cannot enter schools. If they have items in their lockers that are needed, they should contact their Support Teacher (Ms. Baron, Ms. Oliphant, or Ms. Mulrooney) to let them know. Arrangements will be made over the next few days for the pickup of these items. Schools will be providing further information for families in the coming days.
As a parent of two young adults, I really feel like I spend a great deal of my time reminding my daughters that they are not invincible, and that their decisions during this pandemic have consequences that go far beyond them. We have over 100 international students still with us, who, in addition to needing the same conversation that I have with my own children daily, might also be from cultures where being social, hugging, and kissing each other as greetings or farewells is the norm. If you as natural parents or agents of these young people could help us reinforce the following message, we will weather this storm together. ALL students remaining with us here are expected to follow the Health and Safety Guidelines set out by our Provincial Government. Here are the all important basics:
Stay home wherever possible, that means NO getting together with your friends, no trips to Starbucks, no hanging out together. Instead you should be using social media to keep in contact with your friends
Frequently wash your hands with soap and water (20 seconds)
Do not touch your face, eyes, nose or mouth with unwashed hands
Cover your mouth and nose with a disposable tissue or the crease of your elbow when you sneeze or cough
Regularly clean and disinfect frequently touched surfaces
Do not share food, drinks, utensils, etc.
If you go out for some fresh air or exercise, make sure your maintain a distance of 2 metres from others
On a more positive note, here is what students SHOULD be doing:
Watch a show or movie
Play a game, cook, or just spend time with your homestay family
Connect with friends and family online
Get some exercise – go for a walk (maintain a safe distance from others) or follow an online exercise class
Be creative – play an instrument, do some baking, draw, paint, knit….so many options
Focus on the fact that you are safe and healthy and this situation istemporary
Thank you again for your patience, understanding and flexibility. Your school will be sending out information about subsequent weeks, learning activities and schedules. We are all working together to make sure our students make the most of the opportunities provided to them in these difficult times. We need your help as we move forward. I encourage you to stay in contact with anyone on our team, or our social media sites; Facebook 'Comox Valley International High School Program', Instagram 'comoxvalleyisp'
Please take care of yourself and each other. We're here for you.
Respectfully,
Greg Kochanuk, District Principal
March 23, 2020
Dear Partners,
We want you to be aware of the following information on air travel service from the Comox Valley.
Temporary Suspension of Air Canada, and Pacific Coastal Airlines Services
The Comox Valley Airport (YQQ) has been notified by Air Canada that service to YQQ will be suspended from April 1st to April 30th. Please see the Air Canada website for further details.
Pacific Coastal Airlines President Quentin Smith has also issued an update, suspending all air service effective end of day, Tuesday, March 24th, until May 3rd. See the full statement here.
At this time, WestJet has reduced the frequency of service on some of the routes out of YQQ and passengers are advised to check the airline's website for schedule changes and further updates.
"Our primary concern is the safety and well-being of our passengers, our employees, and tenants and the communities we serve," said acting Comox Valley Airport CEO Alex Robertson. "We are working now to adapt to the temporary suspension of service and ask for your patience until we are able to issue more information and details regarding resumption of services."
Information updates will be posted to www.comoxairport.com as they become available.
March 21, 2020
Dear partners in education,
In an effort to keep you updated about how COVID-19 is affecting us in the Comox Valley, here is the latest from our office. I would to stress the importance of remaining calm an1d as a team, we will get through this together.
Status of COVID-19 in British Columbia
There are 277 total cases in BC, including a single case in the Comox Valley. Our advice to students who are remaining with us  is to practice the following:
Frequent and vigorous hand washing
Social distancing and avoiding contact with large groups of any kind
Listening to homestay requests on these issues
Restaurants, malls, community centres and theatres have now closed to help keep the public safer through avoiding large crowds. As a result of the current situation, we have closed face to face instruction in our schools for the foreseeable future.
Travel
We realize this is a difficult time, but we are still leaving the decision up to individual families as to whether or not students should return home.  There are risks with returning, such as going through airports and in many cases, travelling to places where COVID-19 is much worse than it is here. However, we realize that in uncertain times, families often want their loved ones close by, which we totally understand and support. We will refund all homestay and medical fees to students who opt to return home at this time. For those remaining with us, we will continue to offer an educational program here when Spring Break ends and school resumes on March 30.
What next?
Our Minister of Education has made it clear that he will be supporting our international students that require these marks for validation of their report cards or who are with us to graduation. We will continue to offer classes remotely with the same teachers with whom the students were taking their courses. All of our teachers will be back in schools on March 30, planning how to deliver their course material to students over the coming weeks.
We are hopeful that our summer program will run as planned for both the July and August sessions, but we will make a definitive call on that in about one month's time.
For those of you worried about what next year might look like in terms of registering your students, we have added a COVID-19 rider to our refund policy which should put all of you at ease knowing that families who register with our program will be entitled to full refunds of all fees save the registration fee.
We will be keeping all of our partners updated regularly through our website and social media accounts:
Facebook: Comox Valley International High School Program
Instagram: comoxvalleyisp
Finally, my message to all of you is that if you have questions about anything at anytime, please reach out to our team.  We are working every day to keep on top of a situation we know changes hourly. We are, as we will always be, here for you.
Sincerely,
Greg Kochanuk
District Principal, Comox Valley International Student Program